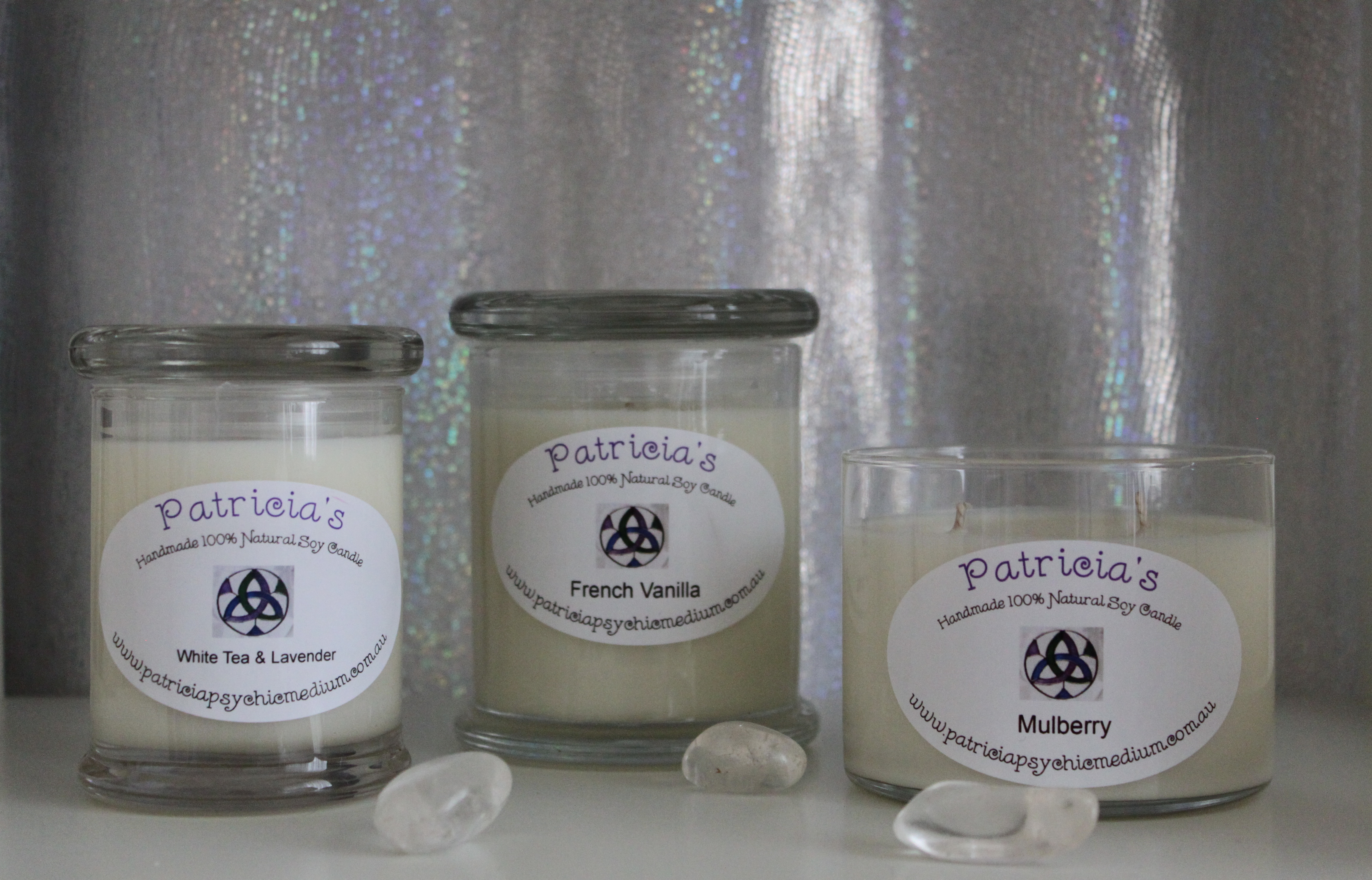 Patricia's Soy Candles
My Soy Candles are made from 100% natural soy wax with no chemicals, petroleum additives or animal products. They are blended with the highest quality fragrances and a touch of love goes into each candle.
Made from Soybeans which are a renewable resource and entirely biodegradable.
Soy wax is water soluble and cleans up easily with soap and water.  Your container is therefore reusable.
A refill option is available at a discounted price.
Please remember your candle has been hand poured, not mass produced.  All effort is made to ensure consistency.  
Fragrances
Available for imediate shipping:
 Crisp Linen, French Vanilla, Mulberry, White Tea and Lavender, Lotus Blossom, Chanel No 5, Poison, Lily of the Valley, Ancient Sandlewood, Rainforest, Armani
Christmas Fragrances:
Cinnamon and Spice, Santa's Gingerbread 
Additional fragrances available with a 10 day waiting period upon request
Price List
Orders can be made by phoning or emailing Patricia
 0413 604 761 or tricia0701@hotmail.com
Large (Metro) Glass Jar with lid (approx 80 hour burn)         $25 + p/h
Medium (Metro) Glass jar with lid (approx 50 hour burn)     $20 + p/h
Caring for your Candle
Here are a few ways to make sure you get the best out of your Soy Candle.
The first time you light your candle let it burn until it melts evenly to the sides of your container.   This helps you achieve an even burn without tunnelling. It also helps the scent throw of your candle.

Trim your wick to about 6mm before you light your candle each time.

I use natural cotton wicks. These are prone to mushrooming (carbon build up) if this happens while burning it is recommended that you extinguish your candle and trim the wick.

It is recommended that you do not burn your candle for more than 4 hours at a time.

Do not leave a burning candle unattended or around children and animals. Remember to check regularly that your candle is burning correctly

When extinguishing your candle always dip the wick in the warm wax and then straighten.

Never blow your candle out

Never extinguish your candle by putting the lid on the container.